What does the name Vedgla, Living Leather stand for ?
For quite some time we had been playing around with the thought that we should be doing more with the expertise, passion for leather and customer network which we built up over the years.
Being active for more than 88 years in leather means you have visited tanneries all over Europe countless times. You know exactly which tannery you need for a beautiful vegetable tanned shoulder, or where to find a supple, full grain bovine hide, or a very elegant and fine calf leather. In short, you know where to buy your leather! Better yet, the need to find good and priceworthy leather, has made us take more control of the whole process. Together with the tannery we develop a leather article which is custom designed for our partners. We prefer to build sustainable relationships with our customers. It is not about delivering one order, we look to develop and grow the business together with our clients. With a large variety of clients, from small to big, from local to international, we frequently receive questions. Who can make a fine pair of custom made shoes ? Where can I turn my idea for a modern handbag into reality ? Who can restore vintage leather goods ? So we spent time looking for the right formula to incorporate this.
As always, a question crossed our path, in this case for leather aprons, which made us make the jump ourselves. We selected the right leather, and called upon a respected and experienced leather goods manufacturer. This is how we started producing our own leather aprons. We now sell these wonderful aprons business to business, but also through our online webshop and various other channnels. The brand we have established for this is VEDGLA. It stands for leather goods, made of the finest handpicked leather and produced by experienced artesanal partners. Our way of sharing the accumulated knowledge and passion for leather with you.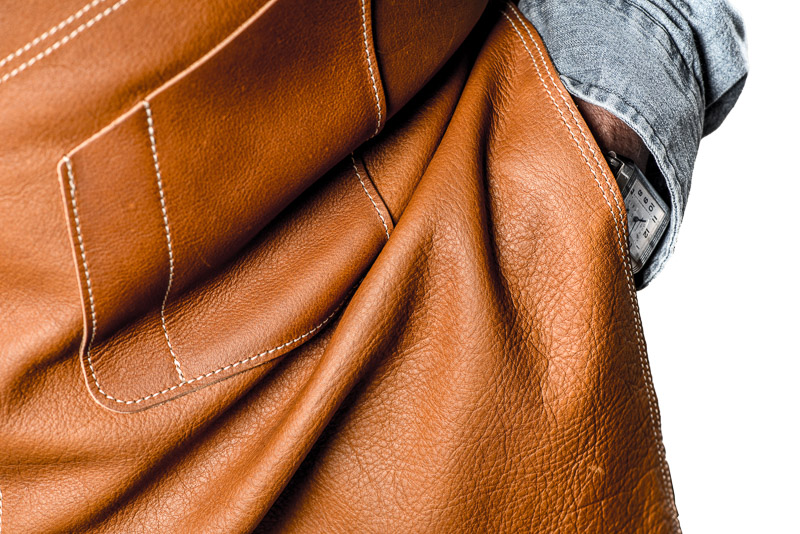 We are not making any concessions when it comes to the emotion that according to us belongs to the leather. You just have to hold the aprons, and you will know exactly what we mean. The leather has to transmit something and tell you something. You will notice this directly. Made of full grain bovine leather wearing the aprons is very comfortable. Because of the adjustable shoulder band, everybody will find a good fit. The convenient loop on the side allows for a towel or barbecue utensil. The front pocket lets you slide in your phone or that recipe you are working on.
You can trust us to have selected the finest bovine leather. We have been doing that for years, 88 years to be precise. The production of the aprons has been taken care of by our trusted partners. They also have a long and outstanding track record in the production of fine leather goods.

You can safely choose a Vedgla Leather Apron. Use it in the kitchen, dining with friends, or barbecuing outside with the family, behind that trendy looking bar or just fiddling around in your toolshed. Better yet, give it to somebody as a present! A Vedgla leather apron conveys more emotion than any other normal gift.

You can choose from several colors, colors that we will be changing on a regular basis. We dedicate a lot of attention to taking the best photos. But it is inevitable that there will be some color differences in reality.

We think of the aprons as leather wear. The more you wear them, the more they will start to "live". Should you want to clean the apron, just use a moist cloth, do not use soap or any other products. The aprons will repel dirt and drops of water to a certain extent, but they are not made of plastic. Eventually stains may appear, they will be the proof that you have been using the apron.

The apron will be shipped to you in a beautiful gift package. We will use renowned shipping companies, such as Post NL or DHL. Outside of the Netherlands this may take a few days. You will be informed and receive a track & trace number, of course.

Should you not like your apron, then you can return it to us in the same package.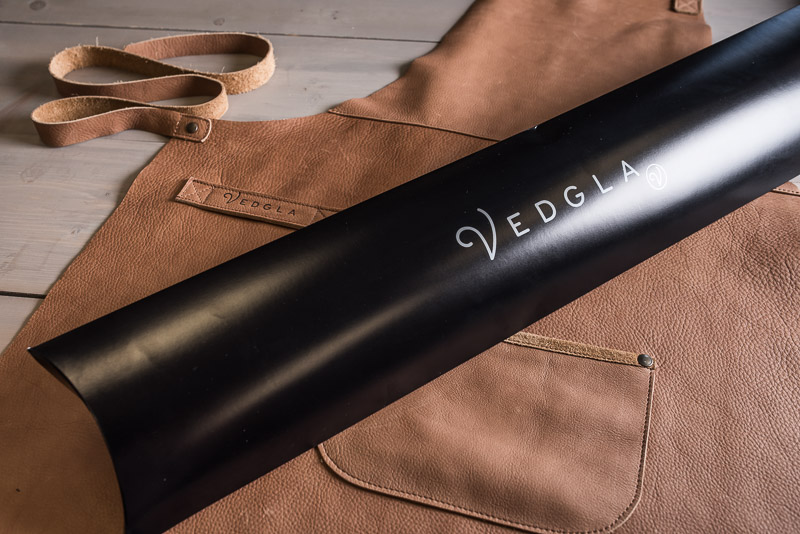 Leather is emotion!
When we talk about leather, everybody will have their own feeling or emotion to go with it. This might be generated by simply touching the leather. Immediately you will know something about the firmness, the warmth or the grain of the leather. Is it a supple leather ? Is it rugged or slippery ? Shiny or dull? Does it have an outspoken grain, has it been embossed maybe ? Or maybe it has been corrected to eliminate imperfections, such as scars or scratches.

The appearance of leather invites you to touch it. The leather on a beautiful ladies bag, a pair of elegant men´s shoes or an expensive attaché will continue to intrigue us.

What is both unmistakable and perhaps decisive is that unforgettable smell of the leather. How often are we not transported back in time just because of a simple smell. The unique smell of vegetable tanned leather puts you in a different moment in time, it will do something to you. Just like that first time you got into that new car with the wonderful nappa leather upholstery. The experience and characteristics of leather are unique. Leather generates emotion. Use it for clothing and you will expect a certain elasticity. Leather will also quickly adapt to your body temperature. You know this when you step into your car. No other material can compare.

All these characteristics and properties of leather and more are known to us. We talk about them on a daily basis. "What a wonderful natural touch this leather has". "Impressive aniline tanning, you look right through it". And our clients ask us a lot of questions. "What is the best leather to use for these motorcyclebags" .
"Will this leather develop a nice patina over time as well, making it even more beautiful ?" The challenge becomes selecting the right leather for that specific product the client is asking about, taking into account usage, experience, and price /quality relationship.